After much anticipation, the day I've been waiting for all of May finally arrived, my ISE4 scarf arrived from the wonderful
Melissa (stickchick)!!!
Saturday morning I was half asleep and in pyjamas when the buzzer rang. I was totally perplexed. It was the mailman with my package. On a Saturday... Maybe Canada post is starting to feel guilty about hating me so much? *shrugs*
But, needless to say, I quickly ripped through all the tape. But I was good and left the scarf for last, looking at all the other very generous goodies my pal sent me. Minus the scarf, this is what I opened first:
(The chocolate was eaten by the time I got the camera out, that would just be the wrapper!). She really picked out excellent choices for me (my family could take a lesson from her). I've been interested in making some dishclothes and completely curious about this Peaches & Creme yarn everyone tells me about and now I have the yarn and patterns. Some excellent knitting mojo there :) And I'm also a huge stationary and hand letter writing fan so that was very special for me too.

Then came... the scarf! My pal made me a wide scarf/wrap out of some amazingly soft baby alpaca yarn. She said that her original plans were much different but she was inspired by my kittyville hat pictures to change plans. And in crazy cosmic timing, it just so happened that I was going to a fancy banquet that evening for the Canadian Mathematics Society meeting and the wrap went perfectly with my dress. (And it turned out that I really needed it because the venue was freezing!) My friend Val ever so delightfully obliged to take a picture of me fancied up with the scarf:
I absolutely love it! Thank you oh so much Melissa! I'm not entirely sure on the pattern though(care to help me out here pal?).
In the sock department I've decided to try my very first toe up sock using
Wendy'
s
general toe-up pattern
. I've only gotten a few rows past the toe as most of my knitting time tonight was spent winding the yarn. Ducky, my Spanish duck, ever so graciously modeled it for me
And the other socks continue. This afternoon I was attending the university's science/education convocation. Sitting by myself, for three hours, in a ceremony where I was really only there for about 5 minutes of it, I wasn't about to sit without some socks, so my Monkey socks kept me company. Afterwards I was talking to one of the professors in attendance (they were on the floor with the graduates, I was up in risers with hundreds of family/friends) at the reception. And apparently, they not only spotted me in all that audience but were able to identify that I was knitting. And, as they seem to take my knitting as being another indication of my strangeness (in the more endearing, not crazy nut job way, I don't take offense) I think that I will be reminded of this fact...often. So, now that it's an infamous sock, here's what it looked like after the ceremony: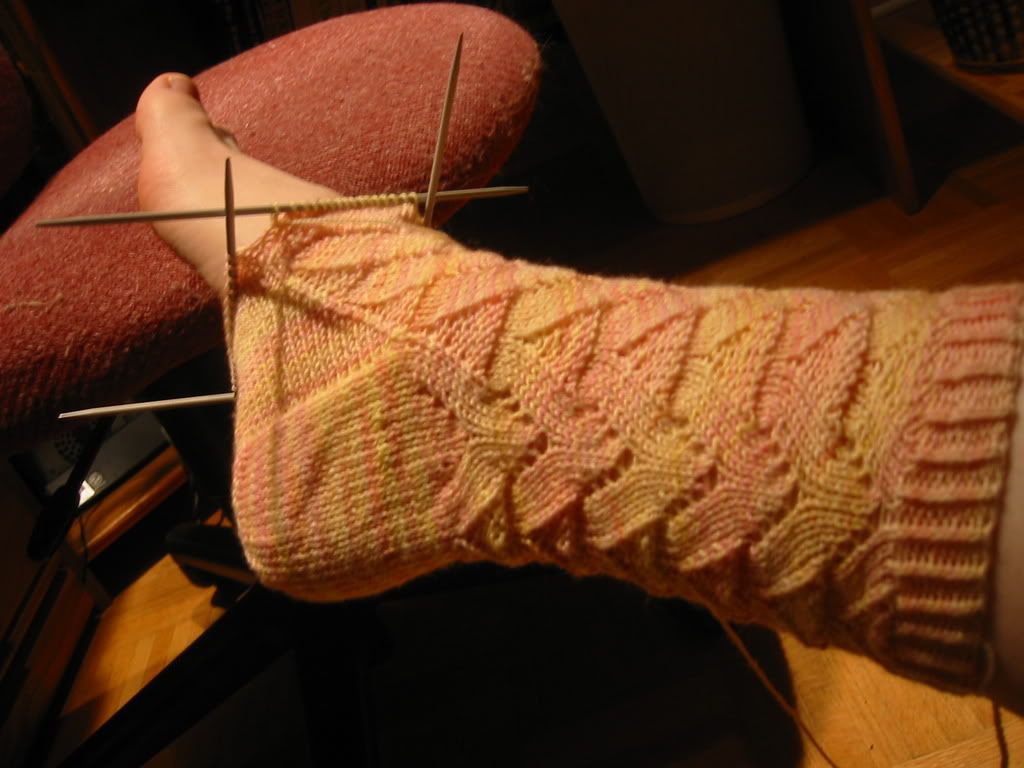 It's now well on its way to being done by the end of next week to ship off to one of the best friends a girl could ask for, for her birthday. I think it's been a good knitting weekend :)