I've been meaning to get posting for several days now but I've been feeling a bit like doing nothing in the evening lately. I've not been particularly inspired. Perhaps because I had people in from out of town the other week and I was going out almost every night (which I never do) and things were exciting and there was lots of people to spend time with. And now that's mostly died off, though I do have one last night out tonight before my last friend heads back home. So I should post before it hits even harder.
Since my last post I have acquired a considerable amount of yarn. My LYS was having a 50% off sell and it's possible that I might have bought a totally obscene amount of baby yarn to make the second baby blanket and a hooded jacket. But this is mere speculation so no need to show it until it's being knitted (and there is such a photo to follow).
Then, if that wasn't enough I got a second order from the
Loopy Ewe
all in preparation for the Summer of Socks KAL which I'm very pumped for. And the best part was that the yarn was shipped in an envelope so the customs people didn't charge me. Ha! Take that Canadian government, I so swindled you out of $20 :) Here's the haul: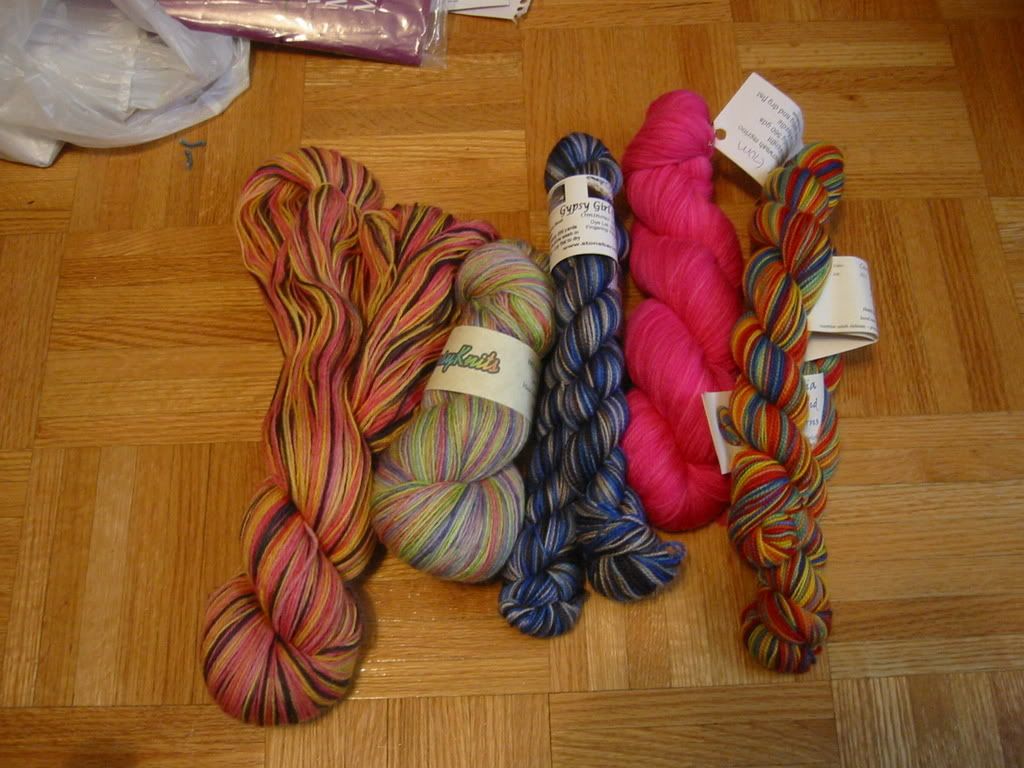 From left to right we have:
-sKNITches Bebop Sock variegated sock yarn in "Showgirl", 440 yds 75% superwash wool, 25% nylon
-Gypsy Knits BFL Superwash Fingering Wool in "Sweet dreams", 330 yds
-Stond Barn Fibres in "Ominous Skies" 200 yds/hank, 100% merino wool
-All Things Heather in "Bubblegum", 360yds superwash merino
-Claudia Handpaint in "Carousel", 180 yds/hank, 100% merino
Like I'm sure I mentioned, I'm trying to just try as many different dyers as possible to see what I like and find out what's all out there (though Claudia Hand paint is in a huge lead at the moment). I can't wait to knit it all up. Except the Ominous skies which is going to someone else as a present.
In the world of actual knitting content, I finished my monkey socks for my friend's birthday and must now get ready to mail it off. I'm very happy with how they turned out and wish I could keep them for myself :(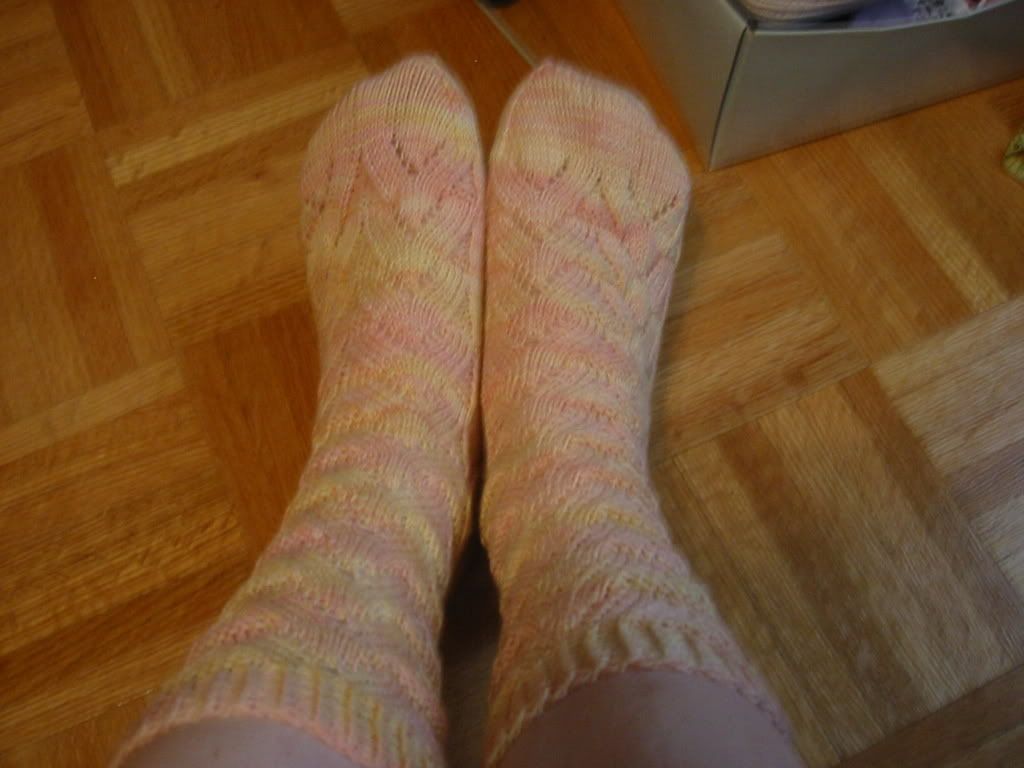 It was knitted on size 2 dpn in the Claudia Hand Paint "Jill's Pink" colourway. I hope she loves them! I've also passed the gusset on my Sockapalooza Pal's socks but unfortunately I stupidly left the bag it's in at home so that'll have to wait for next update for pictures. But I assure you the sock looks just spiffy!

And then, we have the start of baby blanket #2. It's being knitted in Debbie Bliss Baby Cashmerino in the "Cable Blanket" patten from the Debbie Bliss book "Simply Baby". I decided to knit both at the same time so that I could alternate as my attention wanes from one. And the best part of this pattern is that it's extremely simple to memorize so unlike the other one I don't need a pattern constantly by my side and can knit it in other places. Here it is:
Aww... baby blanket. Seriously, baby's get all the cool knitted stuff!
I believe that's all there's been from me. My goal is to finish the first Sockapalooza sock by then end of next week and get a good chunk of the blue baby blanket done this weekend. Hope the plan turns out. Happy Wednesday all!