First off, I'd like to begin tonight's blog entry off by giving a huge hello to my ISE4 scarfee
Sharon
*waves*. By miracle upon miracle, the post office managed to get my parcel not only to Australia but to her house in only 6 business days. Considering it's taken them over two weeks to send a letter express post two provinces over, I take this be nothing short of a miracle! I'm so glad that she loves the scarf and that her daughters are excited for the treats I left them in the parcel. It's always scary making something for someone else when they have no clue what it is. I think colour is an extremely personal choice and luckily I was able to pick something she loves. Which is exactly what she deserves as she's not only my scarfee but happens to be the very capable organizer of the whole exchange which is no small task!
And in some crazy cosmic timing, on the exact day that my ISE4 pal gets her scarf, I received the info for my Sockapaloooza4 pal. Reading their profile, this will be really different for me. Their colour choices and design likes are so far from mine, it will be very un-Jenna like knitting. A good challenge for me, but even harder to make sure it's something they like. I'll have to do some serious blog reading to get ideas!
Today I went to my friend
Joanne's
house for some extra fun knitting and chatter. Plus some quality time with her many pets whom I adore. While there I finished sock #1 from my Fleece Artist Sea Wool in the
Hedera
pattern from Knitty. I am quite in love with them. And the pattern is very easy to remember in a 4 row repeat so it's good travel knitting or when you can't give %100 concentration. Here's what sock #1 looks like:
I find these pictures are pretty true to colour, but they are in fact a bit darker and shinier in real life. Not entirely unrelated, and maybe it's just me, but does anyone else find looking into the "gut" of a sock to be a bit obscene?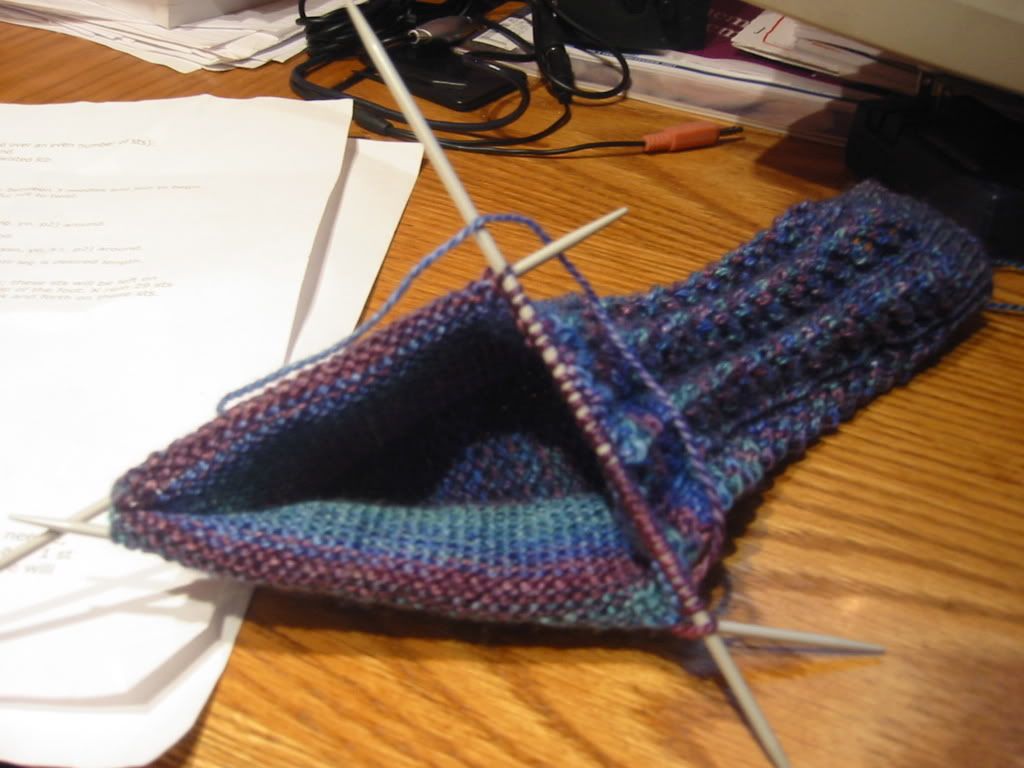 I always feel like I should be averting my eyes or something *shrugs*.
And, just to prove that I'm equal opportunity with using my kitties to hold my papers, here's Misty from the other day:
They're very insistent on where they want to sleep. And if it happens to be in the middle of my papers, that's fine as long as they don't mind "joining the pile" which they clearly don't :)
Tomorrow I start my summer research job at the university. Think good thoughts for me!