Well, the worst of my exams are over. I just have one more next week and then I'm free of school work for about 4.5 months. And do you know what that means? Knitting time! Actually, since Friday night I've gotten quite a bit of knitting done and watched an obscene amount of 7th Heaven at the exact same time (I bought the first couple of seasons as a reward for all the extra hours I've been working).
Firstly, while I was whispering about starting another sock last time, it seems that I've somehow managed to have another sock jump on the needles. But I swear that the Queen of Cups is for at home knitting while the other sock has a simple enough pattern that Ican use it as a travelling sock. Without further ado, my super cute new sock made from the coveted Fleece Artist Sea Wool:
Yes, it's a bit dark. I'm still crossing my fingers for a new camera for my birthday next month :)
My Queen of Cups socks are starting to come along, but they've been mostly cast aside for my two big projects (after they felt so special that I was cheating on the Monkey socks for them, I suddenly cast them aside for something new too, classic). I'm still loving the bamboo needles and still totally paranoid over breaking them. I don't know how I could ever think of travelling with them...
And your final picture for today is the baby blanket after almost 1.5 repeats of the pattern. I am absolutely loving how it's turning out and I think the colours are absolutely adorable. I can't wait for when my cousin sees this when it's done. I can't think of anything that gets more love than a baby blanket.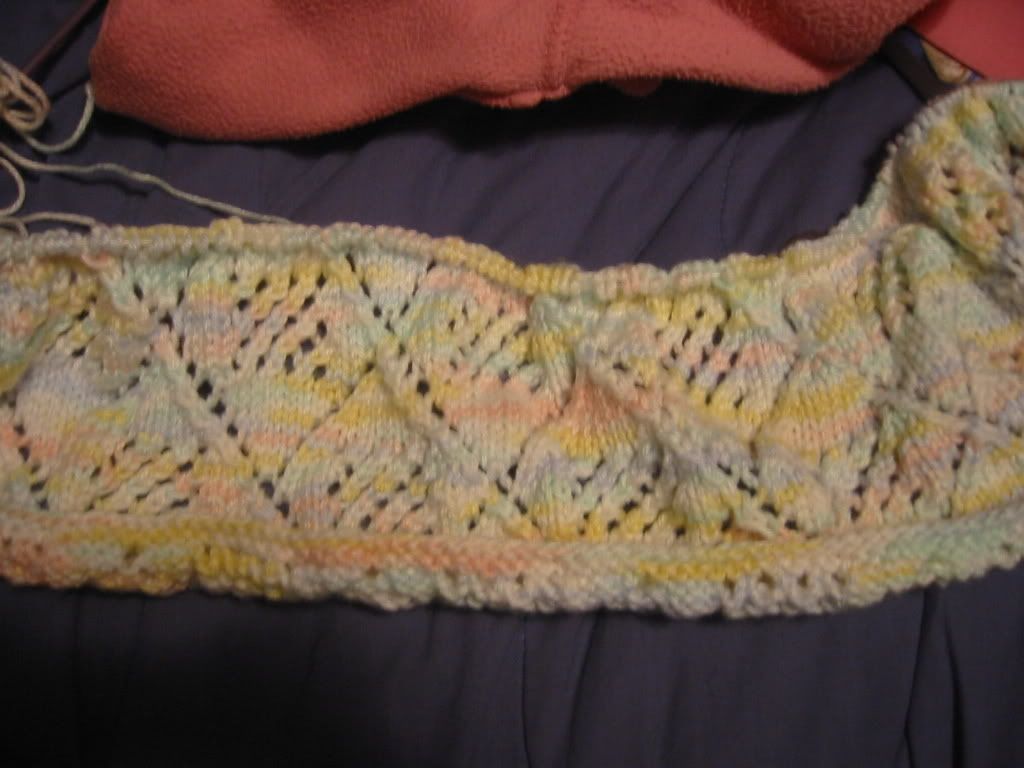 My ISE 4 scarf continues. I figure that I'll get more done before another picture. I finished the first half last night and then had to pickup the stitches from the provisional caston to start the second half. That was murder. It was so slow going picking out the crochet. And I fear that I used too small of waste yarn because I could barely get the stitches on the needle they were so tight. I got to try my hand at the picot bind off as well which turned out better than I was hoping so that's excellent.
Now, if I could only supress my urge to start knitting miters after reading all these fabulous blogs with people making mitered squares...