Well, it's been about a week and half since last update. I admit, I've been bad. I blame school. I'm sure that come April this blog will get more interesting as I get more quality knitting time done.
I do have a FO to report, my fingerless mitts that i've been coveting these past two weeks are finally done, hooray! Despite some painful frogging on the second glove due to a misplaced cable, I managed to get them done mostly in the car and between tutoring appointments, here they are in all their yummy yarn glory: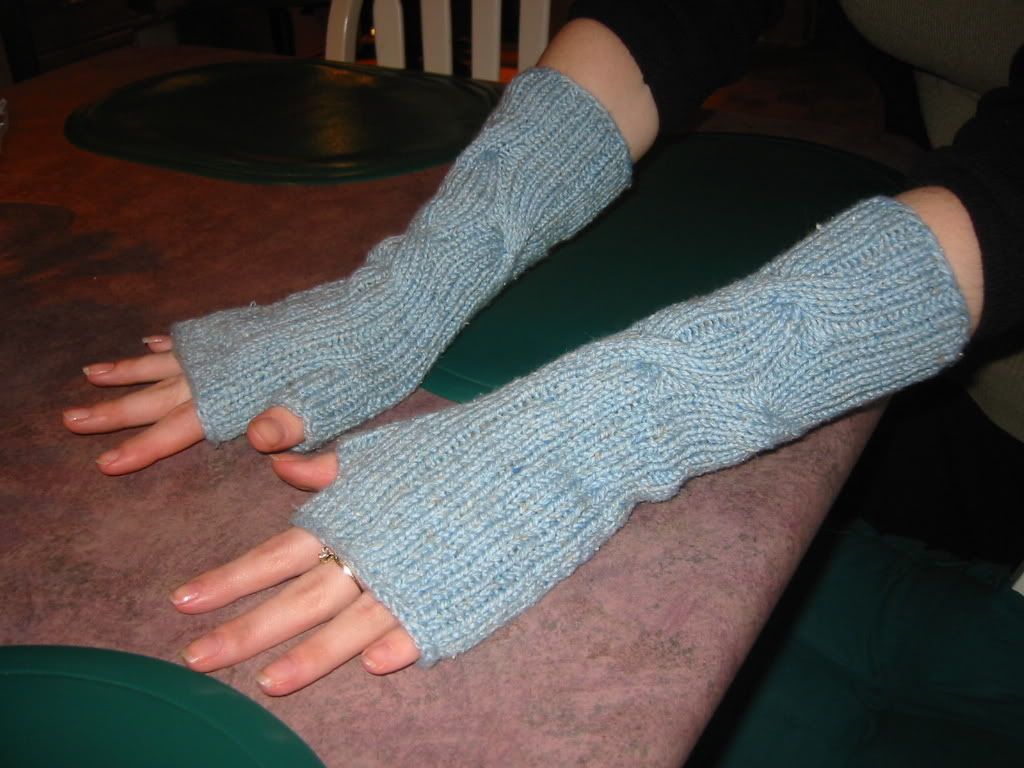 I adore them and wear them as much as I can now. and it just happens to be the perfect weather for them now as well as spring is just starting to happen here. (Actually the weather seems to be having some personality disorder issues and keeps going from 20 below to above 0 with no notice whatsoever and then suddenly back down to way too cold temperatures. No rhyme or reason.) I even wore them to band last night and they kept my hands nice and warm while I piccoloed away!
But we ask ourselves, why has "the lond stretch begun"? My next two bigs projects I think will take a very long time and will need lots of dedication on my part. The first is my International Scarf Exchange scarf! I'm just so incredibly excited. I've heard from the woman knitting for me (hello there secret pal if you're reading this *waves*) and I've received my match. And I absolutely can't wait to spoil her.
Yesterday I took a trip down to my LYS and picked out some super luscious wool. Debbie Bliss Baby Cashmerino 55% merion wool 33% microfibre and 12% cashmere in the color Eggplant, a gorgeous deep purple (which my camera truly can't capture the beauty of well enough). I'm making the "Oak Leaf and Acorn Scarf" from Fibre Trends. It's done with a provisional cast on which took a try or two and I can't figure how to do it without manualing having to untwist all the stitches for the first row... But it worked. Here it is after the first repeat (though it's a lace pattern so it won't look the way it should until post blocking, alas) and ignore the pink waste yarn :)
And the second long project, a baby blanket. My cousion is due in September so I figure I have plenty of time. I decided to be a masochist and throw all advice to the wind and knit it instead of crocheting. I just hope that it doesn't come back to haunt me because the doctor thinks she might be having twins and I'm now concerned that I'll be stuck having to finish two blankets now that I'm commited to one. But, I will be happy to do it. There's something really special about baby blankets. I'm making it out of Bernat Satin in the color Bahamas (the most gender neutral but still baby color I could find):
Oh, and there's a slight chance that while picking up the scarf wool this on sale discontinued color yarn may have found it's way into my purchases: