So much work to do in my life, so little time to do it all in. Every day as term goes by I'm more and more thankful that I've found my knitting moments to keep me sane.
Now, I may as well make a confession, though I tried to keep it stowed away in the bag I got it in, the Koigu put up too good of a fight and it ended up on spare set of dpn. (It has a mind of its own I tell you). So despite my (mostly) best efforts otherwise I am in the middle of another pair of socks even though my sweater is not done. But the socks are just so exciting, have a looksie: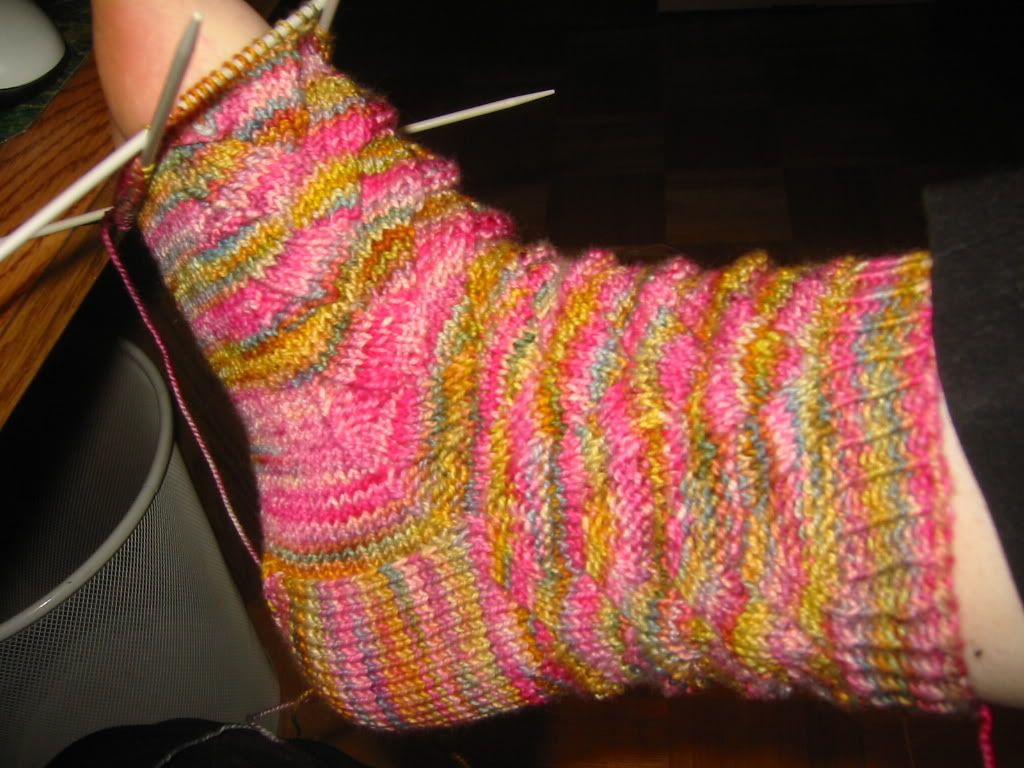 I'm loving how the colours are turning out. The picture is actually pretty true to life in colour (shockingly enough). I wasn't expecting it to be that dark or to have so much in the way of greens. But I am not disappointed at all. So far there has only been one major mishap, a misplaced yo that I didn't catch until 6 rows too late. That was very tedious unknitting. The pattern itself is the Monkey sock pattern from Knitty Winter 2006. They yarn they call for has slightly more yardage so I cut out two repeats of the lace on the cuff to hopefully not run out of wool. And I'm glad it turned out that way because I think 6 repeats would've been too much anyways.
But, to make up for the sock fascination again, I did spend some time with my sweater. It's an off the shoulder sweater from the Bernat website. I'm finished the back and front piece and am on to the arms. After that, it's the round piece that flips over the shoulder. It's a very shotty pick, but here's the back and a bit of an arm: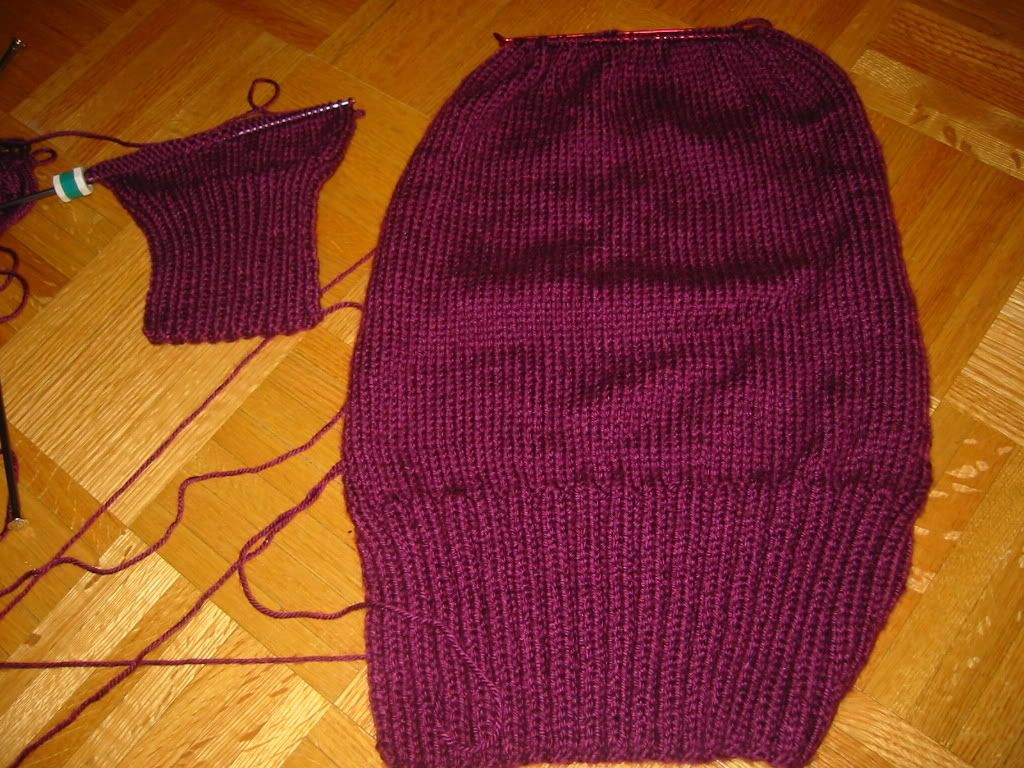 I would link the pattern but I seem to be totally unable to find it any more on the Bernat website. Hmmm... I better make sure I don't lose the one that I printed off.
So lately, I've started to knitting in public to get more knitting time in. And I must say that I find it quite enjoyable. While I enjoy the zen solitude of knitting, I also feel strongly that nothing is worth doing if you can't share it. And I like it when people ask what I'm doing or come and share their knitting stories. And I'm finding more and more people I know knit. Some I never suspected suddenly come out of the cracks when they see me knitting. I like the feel of connection that art brings. Meeting people who know why I find it so incredibly addictive.