Tonight was an extravaganza of FOs. I figure that if I could get all the small projects out of the way that I might actually start to focus on getting my off the shoulder sweater finished (though that new Koigu wool is going to make it extra hard to not spend all of my time making more socks). Without further ado, here they are: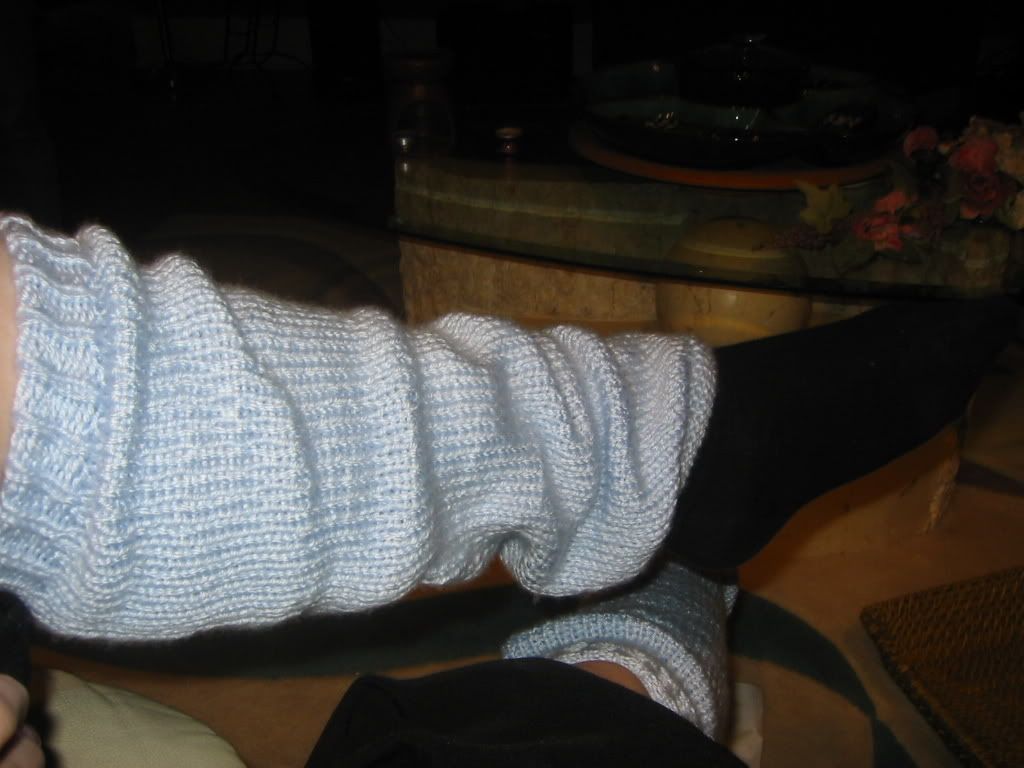 These are the leg warmers I promised my aunt for Christmas and promptly had to remake. But now I assure you that they are both 100% the exact same size as, as far as I'm aware, there isn't a difference of several inches in the circumferences of my aunts calves. They're made from Bernat's Satin wool. Just a K1P1 rib at the top, stockinette body and garter stitch at the bottom. Notice the obligatory pointed dancer toes pose in the picture :) I am now officially super jealous and wish I could have them for myself.
The second FO would have to be... my first pair of socks!!!
These were made from Sirdar Snuggly wool in the colour Party Pink on size 3 dpn. I must say that the second one I made looks much nicer than the first and was much easier. I think I may become a sock knitting addict. The kitchener stitch also went much nicer the second time around. I kept messing up and dropping stitches all over the place on the first sock but for the second I couldn't remember what I found so hard. I'm moving up in my knitting I guess.
And before I forget, welcome to the new visitors to my site. I knew something was up when suddenly I found three comments in an entry for the first time. Clearly, it was the working of
Jewels
from the university who got me started on the blogging. It was extra nice to see comments.
But back to work. Reading week is almost up and I have tons of work left to do. But on an end note, Misty did approve of my studying break to finish the knitting: