More yarn for me! It's my birthday this Thursday so I've been treating myself to some yarn. Well, lots of yarn actually, but let's not try to argue semantics here :) On Saturday I took a trip over to Ram Wools and got mostly yarn essentials and a treat.
The treat for me was 1260yds of "Fiddlesticks Knitting" lace weight yarn (50% Merino wool, 50% tussah silk) in the colour indigo. I've been wanting to make myself a shawl for forever and I figure birthday yarn is a good excuse. I settled on making the
Snowdrop Shawl
by the
Yarn Harlot
. I think that it's definitely manageable for a first lace attempt and it's easy to memorize. I'm making good use of lifelines in the pattern and taking a good lesson on the fiddliness of lace. It's crap to unknit :) But I'm a trooper. Here's my progress so far: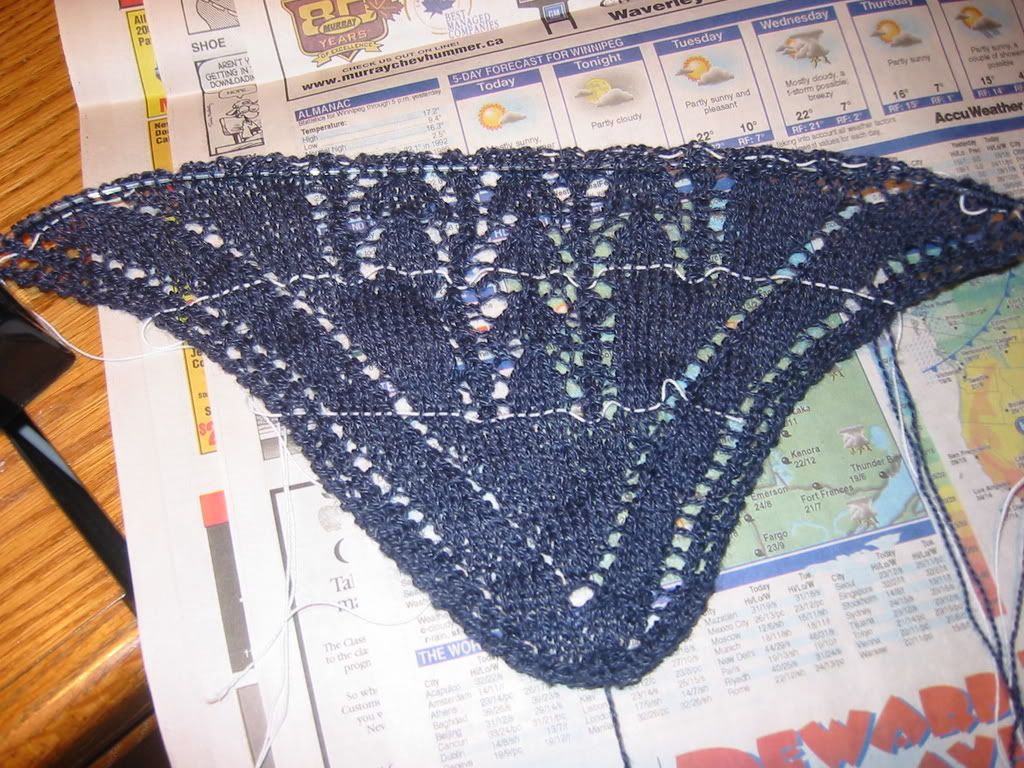 I keep reminding myself that lace is meant to be blocked and then I'm happy with it. Though I must say that I'm rather alarmed at the number of people who are seeing it and asking if I'm making underwear :S

As mentioned before, my cousin is having a baby this summer and I'm in mid baby blanket (it looks the same, only longer, so no picture this time). Now about a month ago I bought a Debbie Bliss Baby book and fell in love with all the adorable patterns. As she still doesn't know the baby's sex, I can't make any clothes for them. But, I couldn't resist. So I made some baby socks for my research supervisor's daughter. But I apparently have no concept of baby sizes and blindly follow book guidelines so they might be too small. But he has hopes they might just fit for a bit (here's to hoping). I stupidly forgot to take a picture this morning so there's no picture of them. But I assure you that I'll knit more because they're too cute. And my first time using more than one colour. So I was very proud of them.
But my weekend wasn't all fun and knitting games. I nearly threw a tantrum at my yarn. The lace weight yarn, very near the start of the ball had a HUGE honking matt/tangle. I spent 2 hours trying to salvage it but it wasn't working. The yarn was literally like fused together and had I eventually seperated it, the yarn would have been so frayed that it would have become unuseable. Here's one knot that I couldn't get out: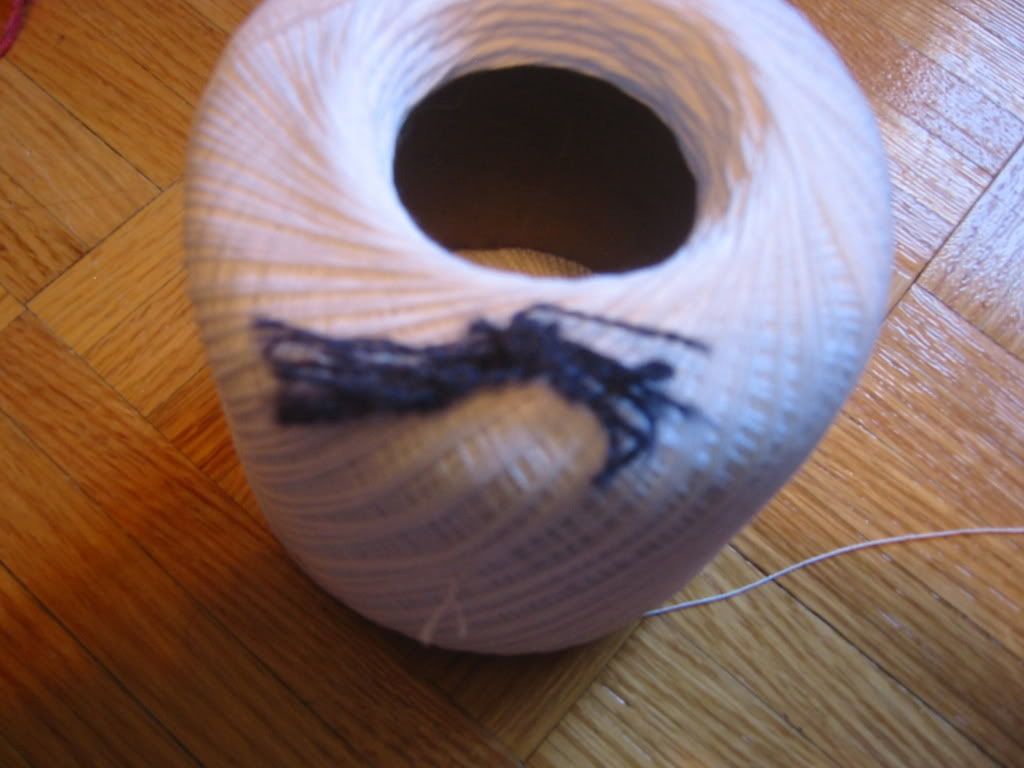 Remember, this is lace weight yarn (you can see how thin the one strangling piece is) so that should tell you just how badly it's knotted in the middle there.
Then, comes my Debbie Bliss Baby Cashmerino for the socks. All I had to two was 4 rounds of 32 stitches on the cuff in one colour and then I got to change. Practically an inch from where I had to switch colours (and all would have been fine):
They kindly decided to tie on a new piece of yarn right there. So there goes the first few yards of the ball, all for not. I understand that this happens, but right at the start of the ball making it totally unuseable?!?! These were both expensive yarns so I would expect better, but I digress...
For non-Sockapaloozers on here, you might be quite impressed to know that our group, with 1000 sock makers
"broke blogger"
. There were so many sock knitters on the blog that it couldn't handle it so they've had to move the message board on to a program called Digg. It is really cool. It basically involves people posting stories from different blogs instead of it all being on one blog. Any one can go read look at all the cool sock posts
here
. So that means seperate posts on my blog for sock stuff.
(More on the other yarn I've acquired when it arrives sometime this week