This past Thursday was a pretty amazing day here. Not only was it my 22nd birthday, and not only was it
Whacking Day
(a perfectly innocent link and holiday, no worries), but it was the day that I received my first order from
The Loopy Ewe
which must be nothing short of the most fabulous sock yarn store in the entire world. I just about died looking at all of the gorgeous yarn. And when it arrived, I had to be reminded that I had band and had to stop continually petting the yarn that came (fibre addiction anyone?). And everything wonderful anyone has heard about the owner Sheri is 100% true. She was great emailing me back and forth making special arrangements for my money order and answering all of my questions. The package came so quickly and it included a hand written note that she puts in every order. Here is what I got: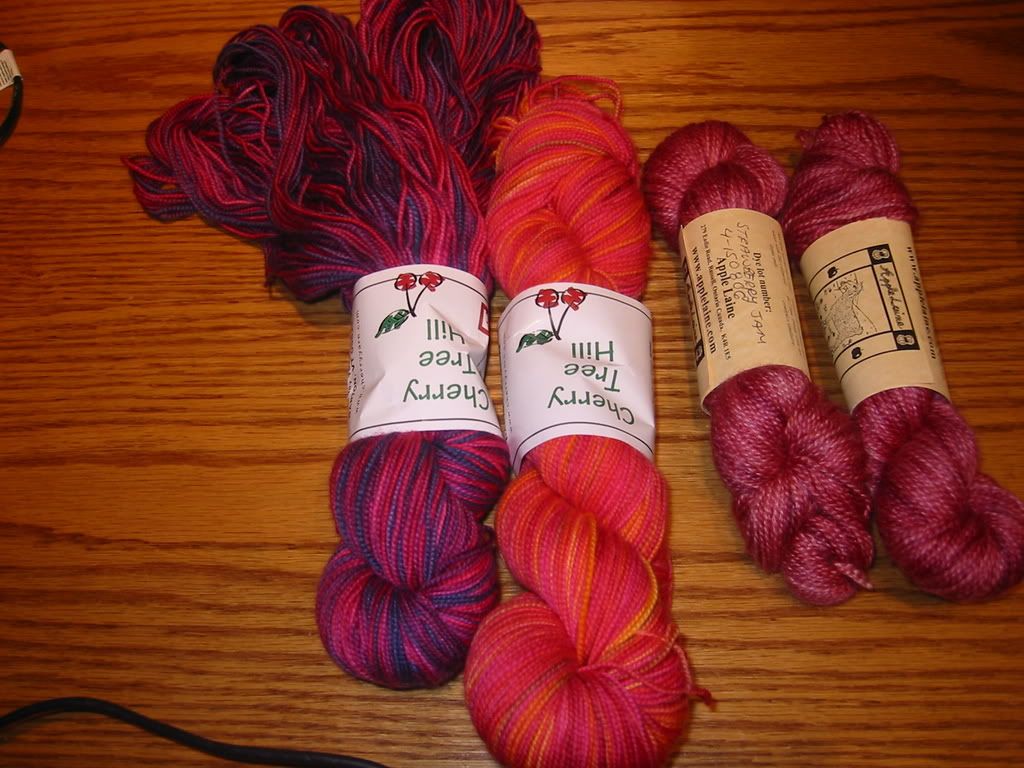 From left to right we have:
-Cherry Tree Hill in "Winterberry" 420 yds 100% superwash merino fingering weight
-Cherry Tree Hill in "Brights" 420 yds 100% superwash merino fingering weight
-Apple Laine in "Strawberry Jam" 2 190 yd skeins 50% wool, 20% mohair, 20% silk, 10% nylon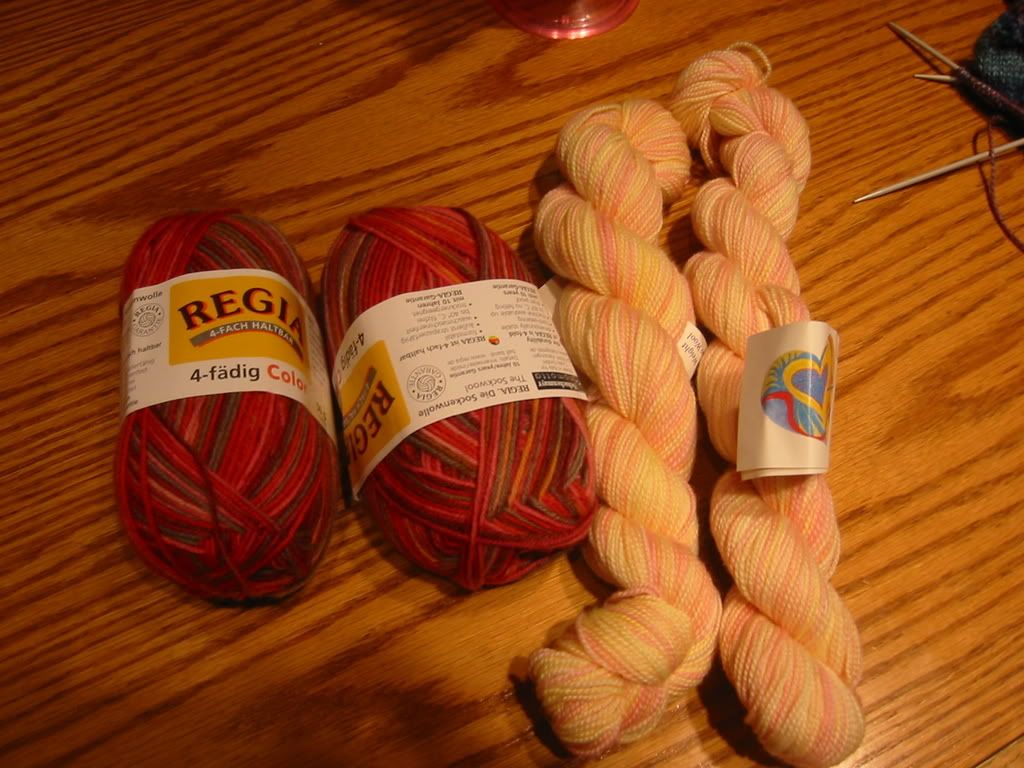 -Regia in a mystery colour (there may be a colour but I don't read ...German is it?) 210 m per ball, 75% new wool, 25% Polyamide
-Claudia Hand Painted Yards in Jill's Pink, 180 yds/skein, 100% merino wool
But I have to say what's the most exciting thing about this order. The Regia. Mostly because I did not order it. Sheri always includes goodies in the packages, and sometimes it's yarn. I got enough for a full pair of socks. How is that for customer service? So yes, I highly recommend that every one who has never visited goes and takes a look at her store from my link above or by the image on the sidebar of my blog. It is well worth the trip.
In my personal knitting, the shawl is a bit bigger, the baby blanket is... the exact same size. I have mostly been focusing on the 2nd Hedera sock to free up needles to try my new sock yarn. Here's the Hedera thus far: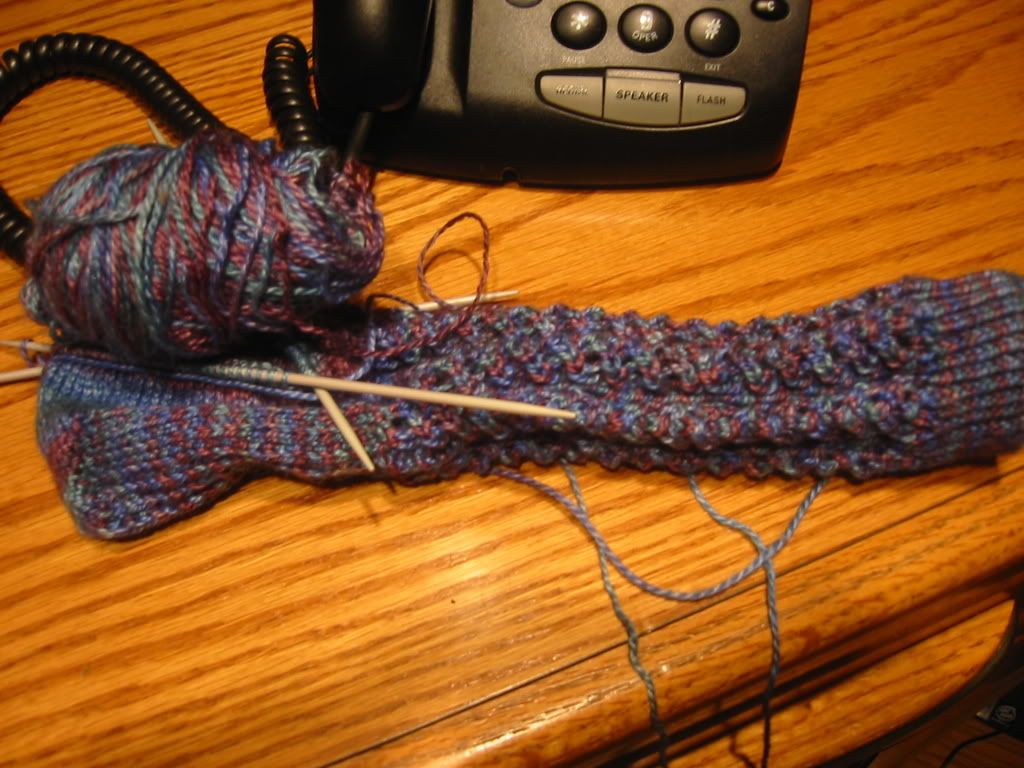 Hopefully they'll be done soon and the needles will be all mine!
I'm still at a loss for a pattern for my Sockapalooza Pal that I'm knitting for. No lace...hmm... I guess that leaves me with a pretty cabled sock. Now to only find a nice cabled sock pattern... If any one has any suggestions, I'm all for them at the moment!
And, in a little piece of excitement for myself, I've been blogged! Tuesdays on the Sockapalooza Knittpligg you are supposed to write blog stories about others socks you've seen. My post about the Fleece Artist wool choice was written about on
this
blog (aren't I a geek!). And if anyone would like to see the package I sent my ISE4 pal, you can read Sharon's post on
her blog
. It's really bizarre to see my knitting on another person's blog across the world... I really don't think I ever knew what a huge and amazing world I was getting myself into when I was introduced to the world of knit blogging. One crazy rabbit hole indeed...